Come to Shed 2, The Wharf, Gisborne
We overlook a spectacular collection of fishing vessels, both private and commercial.
Our Club offers a wonderful relaxing atmosphere with a popular restaurant, panoramic views of the inner harbour and surrounding area, large screen TVs, bar facilities, Gaming and TAB Pod and also great friendly camaraderie. 
We talk fishing.
Opening Hours
Mon, Tue
11.00am - 10.00pm
Wed, Thu,
11.00am - 11.00pm
Fri, Sat,Sun
Friday 11.00am - Midnight Saturday 10am - Midnight Sunday 10am - 11pm
Public Holidays
Open as usual - no surcharge Closed Christmas Day.
Restaurant
The Tatapouri Restaurant is run by a professional team of Chefs. The Restaurant hours are 12pm to 2pm, and evening 5pm onwards.
Our Main Menus are available to view in the Restaurant as the specials often change.
For functions we also offer buffet menus (for over 50 people) and finger food menus.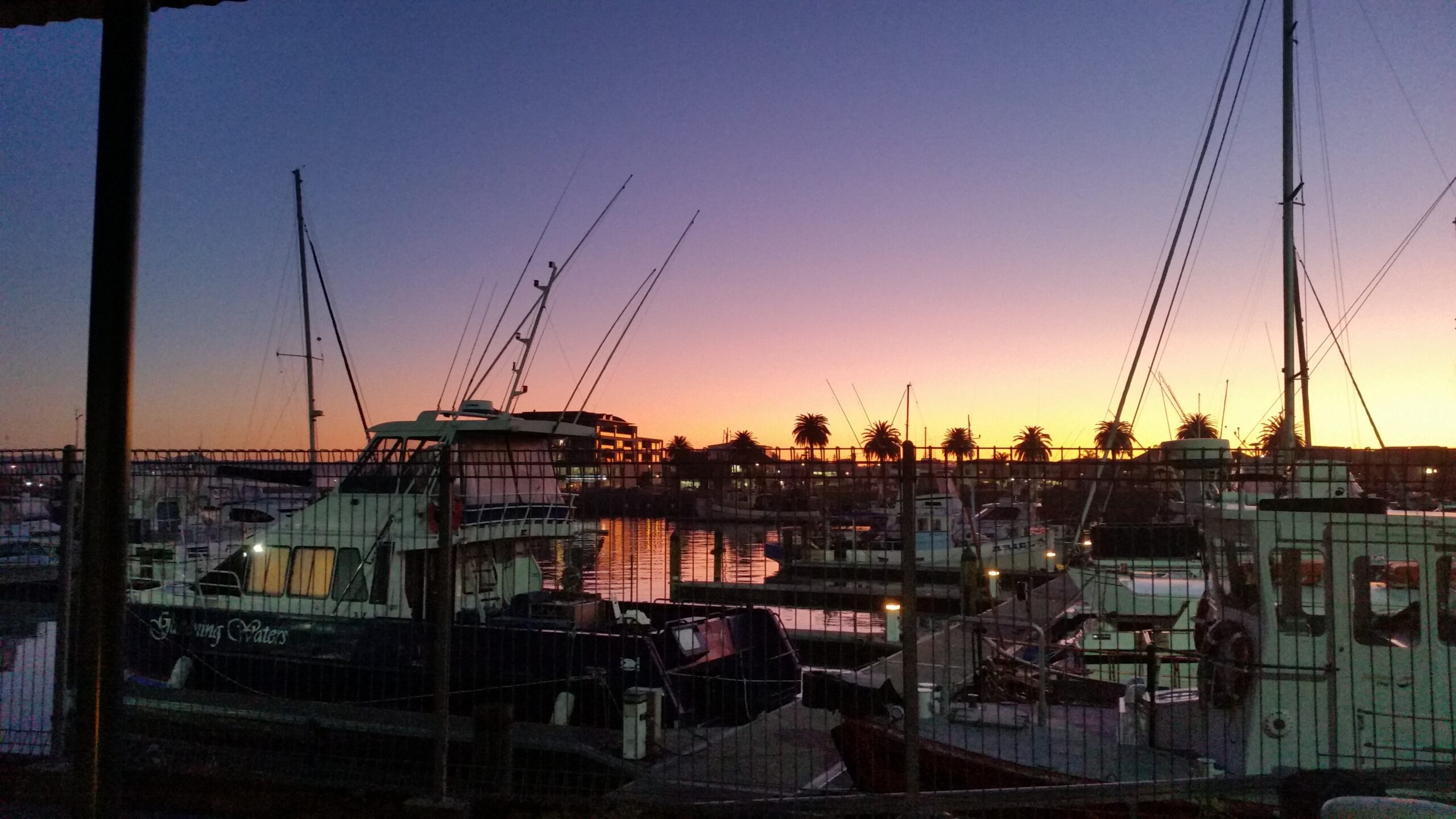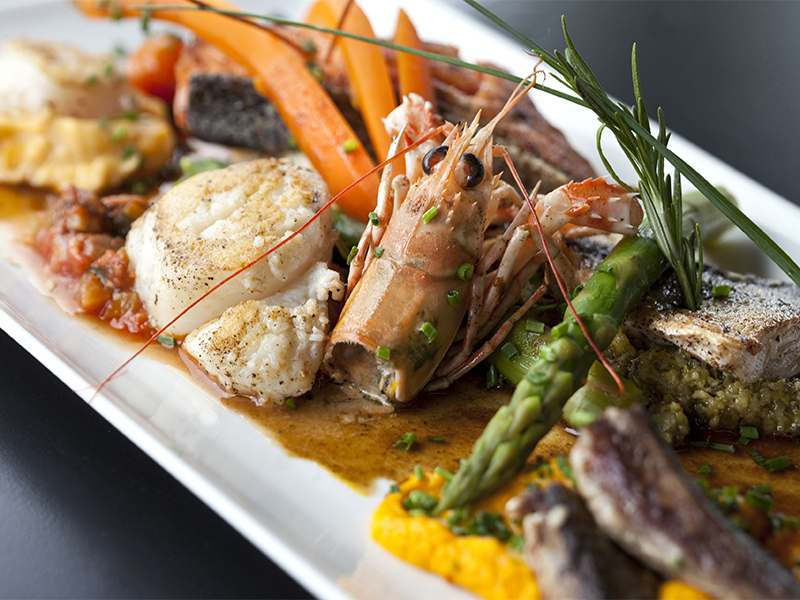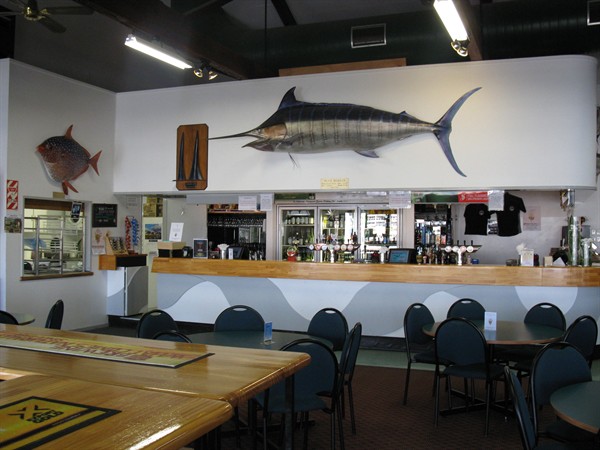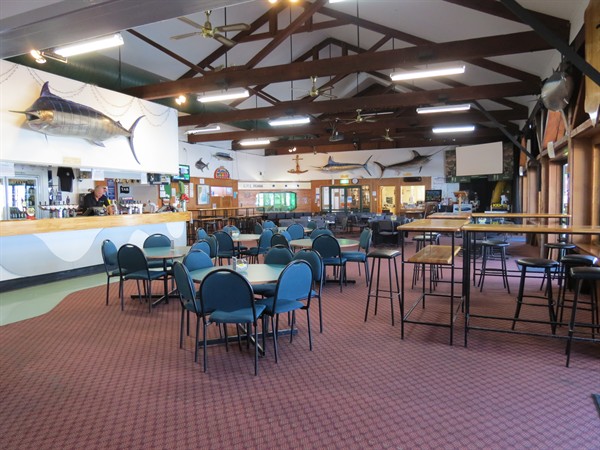 Bar
The Gisborne Tatapouri Fishing Club hosts two bars, one being our Main Bar, the other the Shark Bar, with both bars displaying the largest variety of full fish mounts in New Zealand.
Some of our top species are a Black Marlin weighing over 1,000 lbs, a world record breaking Southern Bluefin Tuna, a variety of sharks and other types of tuna as well as many other species on display.
We also have a large live fish tank with Marine life caught out in our bay, this is a great hit with our younger guests.
Our Bars are fully stocked with a large range of local wines and beers as well as the most popular beverages. There is also a complimentary chilled water cooler available in our main bar.
Members Club Nights
Every Wednesday we hold a Members Draw that jackpots by $500.00 each week if not struck and every Friday we hold a Must-Go-Draw for gift cards – only drawn from those in the club who write their names on the must go sheet at the main door.
When the Wednesday jackpot hits around the $2,500-$3,500 mark it becomes a Must-Go-Draw – a not to be missed night for all members. A variety of Raffles are also available and drawn on the night.
The Club has it's own Berth for hire please contact the office regarding hireage.
There is ample car parking for Marina and Club use. GDC provide car parks available adjusted to The Works Restaurant.
This important document is displayed at all times on the noticeboard and is our legal criterion for trading. A parent or guardian must accompany junior members whilst in the Clubrooms. No liquor is to be removed for consumption outside the premises. The Club does NOT allow BYO product to be bought into the Club or Restaurant. Police enforce liquor procedure and practices. We endorse the Sale of Liquor Act and pride ourselves in Host Responsibility requirements.
We offer a courtesy van pick up/drop off service - Wednesday to Sunday from 4pm - to our members, donations are gladly accepted. To book a pickup please phone 0508 82 82 82
We have professional office staff available to answer any queries you may have 06 868 4756. Or the office is open Monday to Friday.
In our Shark Bar we can seat 110 for buffet meals (seated) and 220 for standing. We also hold wedding receptions!
This is a Club monitored ramp/weigh station plus radio room (ch 60) which is monitored during ALL competitions. The radio room can be contacted for up to date weather/cancellations on 868 4156.
These are available in the Mens and Ladies Toilets.
A tractor is available for members. Yearly fee apply, please contact office staff for more information.
Members are permitted to sign in visitors. You may bring the same guest a maximum of three times in any membership year. We also welcome any member of any affiliated club with reciprocity.